 Pectoral Implant Surgery in Las Vegas
Aesthetic Surgical Procedures for Men
Pectoralis muscles (chest muscles) are highly sought out by many men of all ages and fitness levels. They can be one of the hardest muscles to build as well. Even with hard work, dedication, and exercise they can be difficult to grow. If you have been unable to get your pectoralis muscles to look the way you would like them to, pectoral implants may be the answer.
Pectoral implants in Las Vegas can be used to help thinner men look more muscular. Body builders can add more bulk through implants. Dr. Smith can help you determine if pectoral implants can help you achieve your goals.*
Before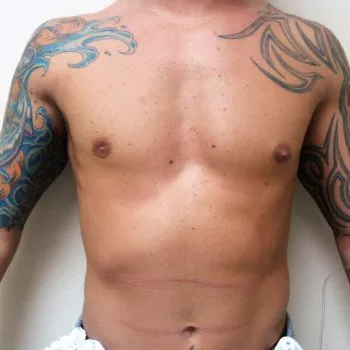 After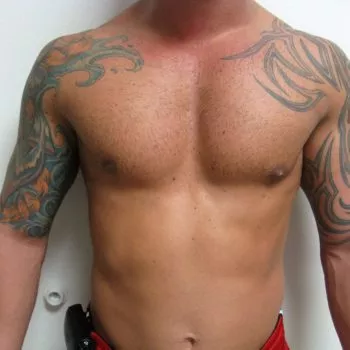 Pectoral Implant Material & Procedure
The pectoral implant material is similar to a female's breast implant. A slicone implant is used for pectoral procedures for men. Much firmer to allow for the male physique.  The implant material used is shown to be safe and is solid enough to prevent any leaks.*
What Can I Expect From My Pectoral Implant Procedure? 
You will be put under general anesthesia for the length of the procedure, which is typically 1 hour to 1 1/2 hours.
To help hide your scar Dr. Smith reaches your pectoralis muscles through an incision in your armpit
Dr. Smith goes underneath your existing pectoralis muscles to place the implant, giving your chest a natural look and feel.*
With 4 board certifications in plastic surgery, Dr. Lane Smith is one of a few plastic surgeons qualified to perform this procedure.*
What to Expect After the Procedure
Typically, patients can return to normal activities within a few days. You will not be able to lift anything heavy or exercise for about three to four weeks. Within six to eight weeks, you should be able to return to your normal exercise routine. Dr. Smith will advise on when you can resume shoulder or chest exercises.
Choosing the right Las Vegas plastic surgeon for your procedure is important. Give us a call now at 702-838-2455 to make an appointment for a consultation.