Ultherapy® – Chic La Vie® Las Vegas
What is Ultherapy
Ultherapy® is a non-invasive non surgical procedure that lifts and tightens the neck, chin and brow.  It  is FDA approved and it improves lines and wrinkles on the chest, neck, chin and brow.  Ultherapy can help you achieve a fresher, more youthful look from your brow to your chest! Chic La Vie Las Vegas is one of only a few Ultherapy approved facilities in Las Vegas.
So how does Ultherapy work?
Ultherapy is based on the power of ultrasound to deliver its collagen-boosting treatment. The Ultherapy procedure stimulates collagen production by delivering focused ultrasound energy to the skin's foundational layer typically addressed in cosmetic surgery—without cutting or disrupting the surface of the skin. No needles, no cuts, no long recovery periods.
Unlike lasers, radio frequency, surgery and other technologies, non-surgical Ultherapy bypasses the surface of the skin to deliver the right amount of ultrasound energy at the right depths and the right temperature. This energy triggers a natural response under the skin, jumpstarting the regenerative process that produces fresh, new collagen. – See more at: http://www.ultherapy.com/How-Ultrasound-Skin-Tightening-Works#sthash.QtMihEwk.dpuf
One of the the unique features is that the therapy includes an imaging screen so the practitioner can visualize the layers of tissue they are treating. This insures the treatment energy is delivered to where it is more beneficial.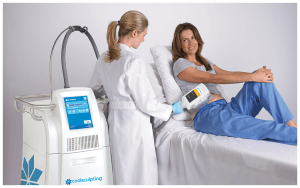 Ultherapy is the perfect solution for individuals who have unwanted fat that is unyielding to diet and exercise. CoolSculpting is not for people who are severely overweight or considered medically obese, however, a good candidate may have bulges in a few areas they would like to get rid of.  It is a safe and effective non-surgical alternative to liposuction.
Is the CoolSculpting Procedure Safe?
CoolSculpting is an FDA-cleared procedure for the thigh, flank (love handles), and abdomen.  The CoolSculpting procedure is performed worldwide, and with over a track record of over 1.5 million CoolSculpting procedures performed, it's been validated to be a safe and effective treatment for non-surgical fat reduction.
Where Does the Fat Go?
CoolSculpting crystallizes the treated fat cells.  These frozen cells die, and are naturally discarded from the body.  Once the cells are gone, they are gone for good leaving patients slimmer and more toned looking.
How Soon Will I See the Results, & How Many Sessions Will I Need?
Some patients see an initial effect right after their treatment, but the real results appear over 2−3 months as new collagen works to lift and tighten skin on the neck, chin and brow as well as smooth skin on the chest. While Ultherapy won't duplicate the results of a facelift, it's a clinically proven non-invasive alternative for those not ready for surgery—and can even be an option for patients who wish to extend the effects of cosmetic surgery.
What Happens During the Procedure?
To initiate the treatment we will position the device on the appropriate area of your body. The device will then draw the bulge up between two cooling panels. The sensation is a firm pull with adequate pressure – enough of a pull to ensure the selected tissue will be cooled most efficiently. Depending on your needs, your session should last approximately sixty minutes.
Can I Return to Normal Activities After the Procedure?
After a CoolSculpting procedure, most patients are able to return to work and resume normal activities immediately.  In the areas that have been treated, some patients report redness, tingling, numbness, or minor bruising.  Side effects, if any, will be minimal and only temporary.
 How Do I Get Started?
Schedule an appointment today to set up your free consultation. Our practitioner will determine if you are a good candidate for Ultherapy, and will customize a treatment plan for you based on your goals.
CoolSculpting Before & After