LASER HAIR REMOVAL – Chic La Vie®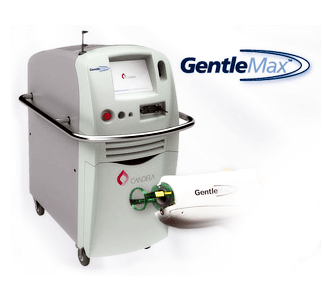 Chic la Vie Medical Spa in Las Vegas, is pleased to offer laser hair removal treatments using the Candela GentleMax Pro™ system.  For laser hair reduction,  Candela is considered the  "gold standard" regardless of skin type.  Most patients find laser hair reduction with the Candela GentleMax Pro to be quite comfortable, and for hair removal, there is nothing more effective.
This state-of-the-art technology for laser hair reduction provide effective treatments while minimizing discomfort for our patients by blasting cold air onto the skin. In addition, the laser can treat all skin types.
What is Laser Hair Reduction?
As a laser can't physically remove the hair follicle, the purpose of Laser Hair Reduction (LHR) is to diminish undesired hair from targeted areas of the body without injuring the surrounding tissue. The laser is tuned to pass through the skin via a wavelength that targets only the hair follicle.    The hair follicle is destroyed by the laser's energy, and can no longer grow hair at the site.
How Many LHR Treatments will it Take?
Hair grows in different sequences so it may take several treatments for LHR to achieve optimal results. As with any medical procedure, our practitioner will work with you to customize a treatment program that achieves our patient's goals.  We typically recommend a minimum of 6 treatments spaced 6-8 weeks apart depending on the patient's hair growth and area targeted for laser hair reduction.

Is Laser Hair Removal / Reduction Safe?
Laser hair reduction is and effective non-invasive treatment solution that is fast and safe.  Most patients can return to work and normal activity immediately.   It is not uncommon for skin to feel warm and look red after a treatment.  These symptoms may feel like a mild sunburn and usually subside within a few hours.  The patient can expect to shed area from the treated area within a few weeks. This may resemble hair growing from the area, but the hair is actually being purged from the follicle. Patients are prohibited from waxing, electrolysis, and / or tweezing from the treated area, however, shaving can be resumed immediately.
Who is a Candidate for Laser Hair Reduction?
Individuals with excessive or unwanted hair is a good candidate for LHR.  Laser Hair Reduction is approved for all hair colors and skin types.  The Candela GentleMax Pro is approved for almost anyone, except women who are pregnant and/or nursing.
If you desire smooth, supple skin free of hair, LHR is the way to go! Call our office today to schedule a Free Consultation.
---
Pre-treatment:
Avoid the sun for 4-6 weeks before and after treatment. the use of tanning beds, tanning creams and/or bronzers must be discontinued before and during treatment.
Avoid electrolysis, tweezing and/or waxing in the treatment area for 6 weeks prior to treatment.
If you have a history of herpes/cold sores in the treatment area, prophylactic antiviral therapy is recommended beginning one day before treatment and up to one week after treatment. active infections will not be treated.
Avoid exfoliating treatment area and/or discontinue the use of products that contain aha's, chemical exfoliants, and/or retin-a/retinol 1 week prior to treatment.
Post-treatment:
Immediately following treatment there may be some edema (swelling) and/or erythema (redness) of the treatment area. this can last from a few hours to a few days. the treatment area may feel like a mild sunburn. use cool compresses if necessary. Hydrocortisone may be used 3-5 days post treatment if necessary.
Avoid activitites that can raise your core temperature such as: saunas, jacuzzis, steam rooms, hot showers, and/or strenuous activities. avoid prolonged heat for a minimum of 48 hours. Avoid sun exposure as this may cause hyper- or hypo-pigmentation of the treatment area.
Following lhr: avoid any hair removal products or similar treatments such as: electrolysis, tweezing and/or waxing. shaving is permitted. Avoid other treatments in the same treatment area for a minimum of 2 weeks. this includes botox, fillers, chemical peels, and other laser treatments.
LASER HAIR REMOVAL

Lip
Chin
Sideburns
Underarm
Full Face
Ears
Chest
Neck
Underarm / Bikini
Underarm / Brazilian
Buttock
$40
$40
$40
$80
$100
$40
$80/$110
$60/$110
$150
$200
$125/$299
Brazilian
Full arms
Half arms
Full legs
Half Leg
Breast areola
Naval Line
Abdomen
Upper Back
Lower Back
Beard
$150
$250/$300
$150/$300
$300/$400
$150/$250
$60
$60/$100
$80/$125
$150
$150
$150
Ask about our competitively priced packages on Med Spa treatments.